What is the Neon Run?
The Neon Run is a wild and crazy glowing experience! This event is less about speed and more about enjoying a night of illuminating lights and neon glow body paint/powder under UV black lights with your friends and family.
Our event is all about people of all different speeds, ages, shapes, and sizes toeing the start line. Come as you are! This event will be a 5k that is more about having fun and making memories, and simply blowing your mind!
How does it work?
Do not expect your typical 5k road race. You will be running through glow zones that will consist of neon glowing water/powder, laser lighting, fog, and music to help your experience back to the finish, (the neon festival) something that will change you forever! The Neon Festival is a Massive Neon festival filled with performers, music, lasers, and black lights. At the NEON festival you will have the chance to Dance, Socialize, take Photos and more importantly have FUN!
What is a neon zone?
A Neon segment of the event is an area where Neon Glow water/powder will be sprayed (it is safe), along with music and lighting! It truly is a "Neon Glow Party."
The Neon Glow water/powder is a special formula that radiates light and will wash right off. All products are 100% natural and safe. These Zones will blow your mind! There will be six Neon Glow Zones along the course. See diagram for a better explanation.
Rules/Guidelines:
There are no rules! We're just kidding of course. Take a look below for a few rules we'd appreciate you following:
All participants must follow course officials' instructions
This is an All-Ages event!
All photos taken by media or Neon Run staff can be used to market or promote other Neon Run events
All participants must complete and sign a waiver of liability
All participants understand there are no refunds or transfers
It is the participant's duty to inform Neon Run staff if they have been injured or hurt during the race
Have fun!
Spectators and Guest
Come out and see what we have going on! There is a $10 fee per person to spectate and spectators MUST sign a waiver of liability. Enjoy part of the Neon Run from the side lines with access to our Epic After party.
What do I get when I register?
A Neon Run Swag
A Neon Run race bib
Neon Run Glow Powder
Neon Run glow accessories
A Neon experience of a lifetime with family and friends!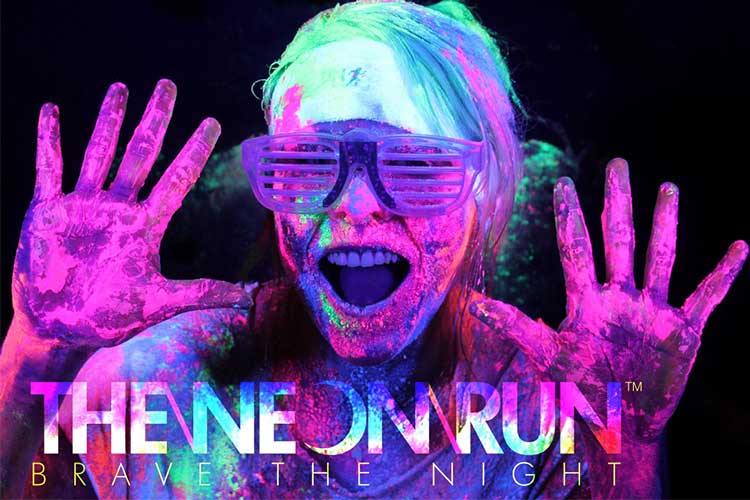 Neon Run Safety
Participants assume all risks & medical expenses if needed during or after the race. 
All participants will brief themselves as to where the medical tent is located when they arrive for the race. Just go ahead and be safe people!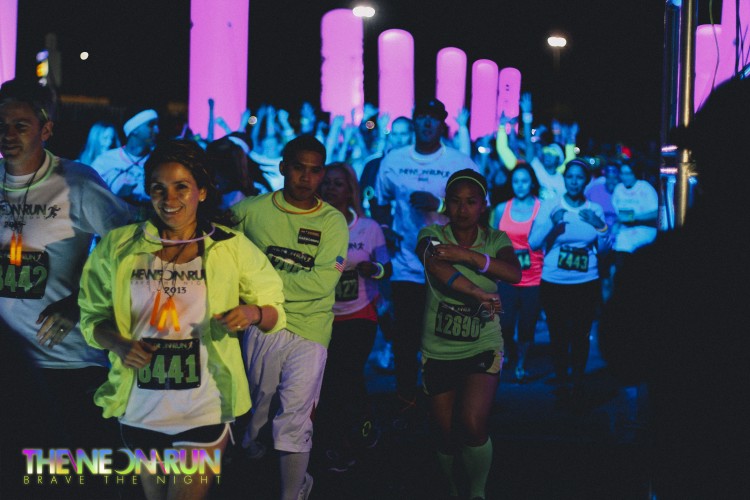 Can I run with my kids?
Yes, but please be prepared for one Neon Glowing Family! You can even run with a stroller!
If you purchased a regular priced ticket from us and your child is under 10, your child is free with an added $3.00 USD convenience fee. If you are using Groupon, Living Social, or Rush49 the fee will be $10.00 USD.
What if I want to register using a code after online registration closes?
If you didn't register online using your Living Social & Groupon codes, you may register in person the day of the event for an additional $5 convenience fee.
Is there an age limit?
No! There is not an age limit, kids of all ages are allowed. You can even run with a stroller! Again, if you purchased a regular priced ticket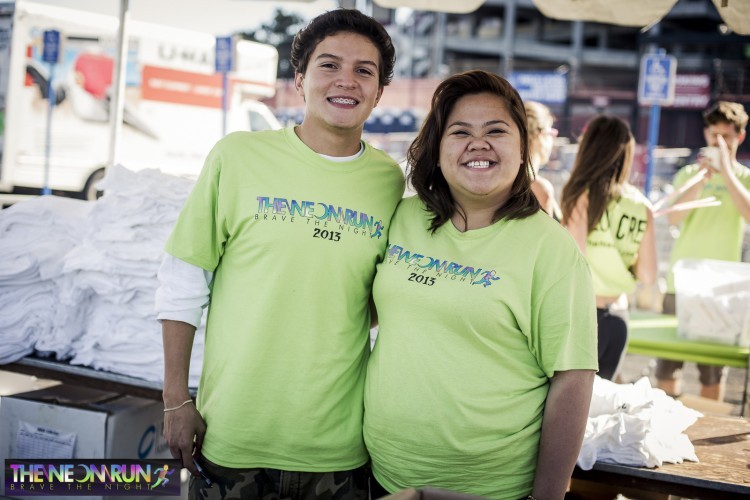 from us and your child is under 10, your child is free with an added $3.00 USD convenience fee. If you are using Groupon, Living Social, or Rush49 the fee will be $10.00 USD.
Where do I go for Packet Pick-Up?
Packet Pick Up details will be located on the city page you are registering for! Please note that you must pick up packet before the day of the race. There will be a $5 convenience fee for picking up on day of.
Make sure you have all fields filled out correctly.
Make sure you are choosing a time that is currently available.
Try refreshing your browser.
If it still doesn't work, try closing the window and starting over completely.
If you are still having trouble registering, you will need to contact Customer service:

[email protected]

or go to our contact us page.
Does my name have to be Usain Bolt to be able to run?
Heck NO! This run is designed to be fun! Do we encourage you to actually run? Yes! Can you walk? absolutely! There are plenty of other great 5ks out there to test your peak performance. However, this 5k is not designed like that! The Neon Run is all about a Wild and Crazy Neon Party with friends and family.
First Aid
A contracted First Aid and Emergency Service will be provided for the event. Mobile teams move throughout the course to assist you promptly.
Toilets
There will be portable toilets located at the Start/Finish Line for participant and spectator use. There will be NO toilets along the course!
Do "Neon Glow Zones" affect vision, taste, or breathing?
OK, so this is probably the most common question! The Neon glowing solution that we have created will not affect vision, taste, or breathing if you follow guidelines of how The Neon Run works. So that means NO squirting/throwing into eyes under high pressure, ingesting large amounts, or doing anything other than getting it on the exterior of your body!
How does the neon affect the interior of my car?
It may affect the interior of your car. Most people bring some towels for the insides of teir cars, just in case.
Black lights?
Yes, there will be use of black lights and LED lights! These lights are strategically designed to enhance your Neon experience! They will not cause a sun burn, but please do not stand in front of it for hours on end!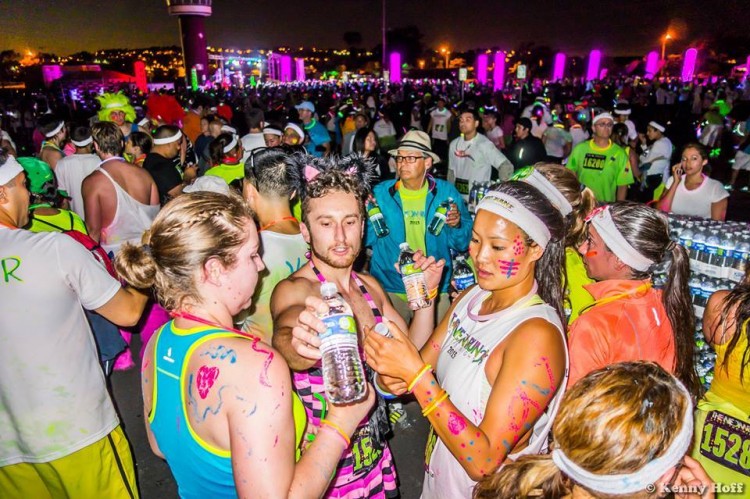 Can I still run with a group if we are not the same sex and age?
Yes. You may run with as large of group as you like as long as everyone runs together in the same wave.
How do I volunteer?
We are always looking for people to be part of the Neon Run crew for every event. Please go to the volunteer link on our home page and submit the questionnaire. If you have additional questions please email us at [email protected] AS A VOLUNTEER WHAT DO I GET?
Neon Run Swag
Food and refreshments day-of
Signed credit for educational purposes
Can I register as a team?
It's not that complicated. You do not register as a team online but you can run as a team or group. Then when you take photos at the MASSIVE NEON GLOW EXPERIENCE you can take team/group photos. There is no "relay" component and team members can finish together as a unit or separately.
Do you donate to a charity or cause?
YES, we do. One of our greatest visions for The Neon Run is bringing fun, memories, and fundraising to local communities. We select a different local organization for each city. To see the specific charity we use for each city, check out the location's race page.
Will the NEON GLOW powder/water ruin clothes or running shoes?
It is a water-based solution that will wash out of clothes. We do not recommend wearing clothing that you wish to not be tampered with. Like with any clothing that gets paint, color, or dirt on it, you should wash ASAP to lessen the effects.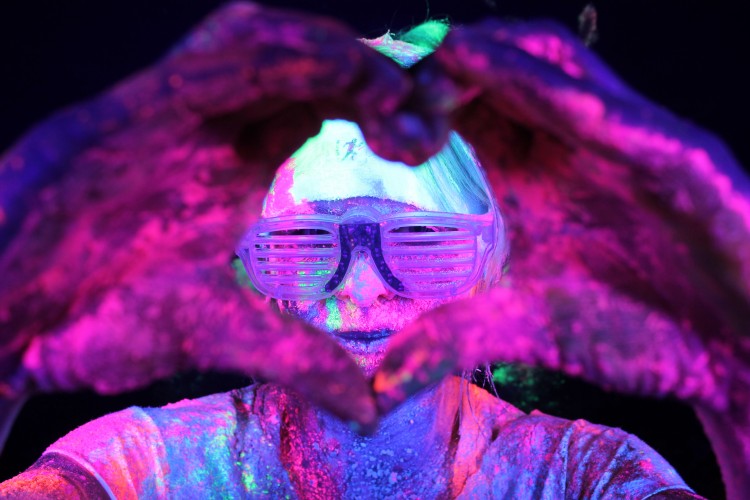 What is included in THE NEON RUN Entry Fee?
Obviously participation to The Neon Run
Neon Run Swag
Entry to The Neon Run after concert
Glow Powder
Race Bib
An amazing memory until next year!
What's included in VIP Entry Fee?
No packet pick up; go straight to the event to pick up your race packet
Standard Items – The Neon Run Race Bib, Entry for 1 to the Epic After Party
Double Items: – 2 Neon Bracelets, 2 Neon Necklaces, 2 Packets of Neon Powder
Also: The Neon Run Headband (based on availability)
1 Beverage Ticket at the event
What is Swag?
No, it's not how cool you are. Swag includes things you will receive as a participant, including glow apparel.
Will there be beer?
Beer will be offered at specific locations only! Since this a family atmosphere beer is a conflict at certain venues. Food and hydration fluids will always be available. There is NO free beer!
Can I Transfer My Registration?
There is no transfer of registration from one city to another. You can transfer your registration to another individual.
Are there refunds?
We are sorry, but there are absolutely no refunds. You can transfer your registration to someone else but it does need to be 10 days prior to the event! Please send us an email with "Transfer registration to another Runner" in the subject box. Please verify all registration information in email and input all new runner information by email.